About the Gelinas Companies

Our Mission Statement:
"Providing premium services in lawn maintenance / landscaping as well as the solid waste & debris removal, while maintaining a commitment to excellence with 100% customer satisfaction and unquestionable integrity. All while being environmentally conscious, and to support our local communities."
Vision Statement:
To listen to our Customers and develop innovative programs to serve their needs.

Deliver exciting quality - cheerfully on time all the time.

Bring to Western Mass. Availability, Reliability and Dependability.

Maintain a top-notch maintenance/disposal /recycling second to none.

Advance our industry by developing outstanding training and safety programs and an environment that brings out the BEST in our TEAM!

History of the Gelinas Companies:
Gelinas Companies was started by Michael E. Gelinas, then only 27 years old, In 1992 out of his home in Orange, Massachusetts. Originally rotor-tilling and light lawn mowing as (Affordable Maintenance). In 1997 the company expanded its operation to include a full line of landscaping and maintenance services. In 2004 the company again expanded its services to include Solid Waste, Roll-Off Container Service.
Our company's goal is to provide the best overall services for the Western Mass market. By aggressively pursuing opportunities, we like to call it "inventing our future", The Gelinas companies have been able to help build its network strength through seminars, searching the web for newer and more cost effective products. This growth has allowed the company to provide customers with top-notch sales and service regardless of where they operate.
Through these efforts, the Gelinas Companies has grown to one of the areas largest independent landscape companies in Western Mass. The centrally located facility, employs in excess of 13 people, and operates a fleet of over 10 service and delivery vehicles.
In 2010, we are celebrating our 13th year in business and we are growing stronger every year.
The Employees of the Gelinas Companies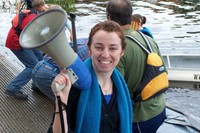 Shelly St. Cyr is The Gelinas Companies Office Manager. Since early 2010 she has handled the day-to-day operations of the office with her very contagious work ethic. Shelly and her staff also handle the hundreds of calls that come into the company each week.
Shawn Tommila Is not much for his Picture to be taken but his work ethic says it all Shawn has been with The Gelinas Companies since 2005. and is responsible for the crews to have all the needed equipment to perform the high quality work that Gelinas provides. Shawn is also in charge of making sure all trucks and trailers are safe and in good working order. As you see from his picture we do some major repairs ourselves. This keeps the overhead costs down so we pass less onto the consumer.